NORWEST SPORTS PHYSIOTHERAPY & REHAB IS A MODERN OUTPATIENT REHABILITATION FACILITY
Our Norwest Physiotherapy clinic is a modern facility offering high quality rehab, exercise and lifestyle programs in a caring and healing state-of-the-art environment.
Principal Nathan Halliday, APA Sports Physiotherapist, holds a Post Graduate Masters in Sports Physiotherapy and brings over 16 years' experience as a physio to the role. Nathan heads up a multidisciplinary team of rehabilitation professionals who work closely with clients to develop programs that are tailored specifically to their needs, based on mutually agreed and meaningful goals.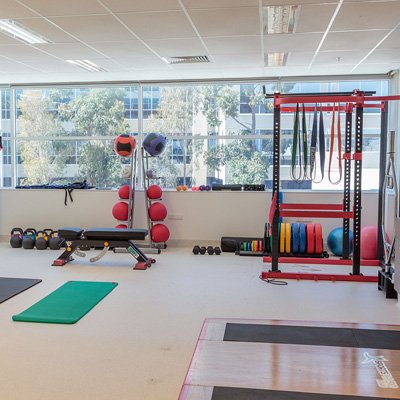 Frequently asked questions
How do I make an appointment?
Do I need a referral to see a physio or exercise physiologist?
A referral is not necessary for appointments with our physiotherapists unless you are claiming your treatment through a compensable body, for example, DVA, WorkCover, CTP or Medicare EPC.
Do you accept private health insurance?
Yes, we have HICAPS and can be claimed on the spot
Where do I park?
Free unlimited on solent circuit, or paid parking on site.
Do you use machines at your clinic?
NO. we are a hands on clinic with a large rehab gym.
Do the physiotherapists use dry-needling?
Yes, all are qualified to dry needle.
I only want to access the hydrotherapy pool, can I do this?
Yes, we have weekly and monthly pool passes available to just use the pool.
How can I access the facilities including the pool through NDIS.
We can cater for all NDIS clients, no matter how you are funded and managed.